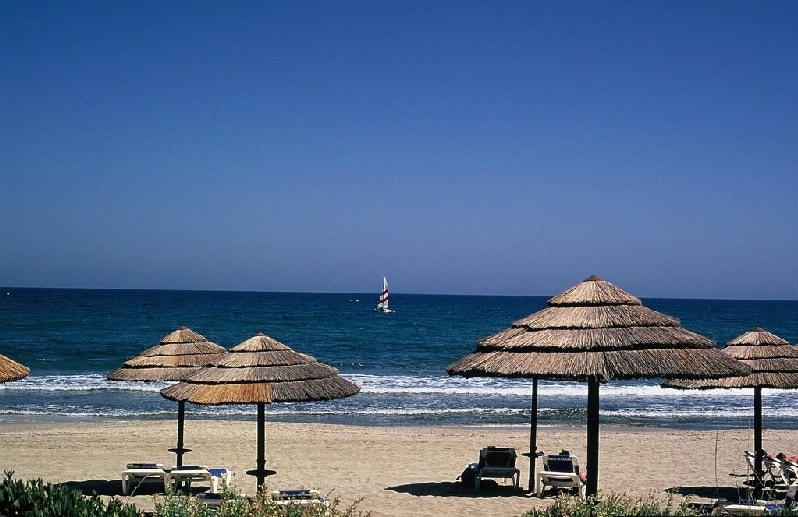 Analipsi
Analipsis is a seaside village very close to the famous seaside resort of Hersonissos and only 24 km east of Heraklion. A large number of hotels are located in Analipsis which can satisfy all tastes; from luxury holidays to the less expensive but warm and hospitable family running hotels, giving the opportunity to the guests to enjoy the lovely landscape and beautiful beaches.
Guests can find several restaurants, shops, mini-markets, bars, cafes, bakeries and some other amenities which make the village of Analipsis an ideal destination for relaxing holidays. The lovely sandy beach with clear blue waters is excellent for families and people who seek carefree and sunny holidays. The cosmopolitan resort of Hersonissos, which offers a wide variety of restaurants, shops and vivid nightlife is only 2.5 km away from Analipsis. Analipsi is less developed in tourist sector comparing to the surrounding areas.
The main road of Analipsi crosses the area vertically from the Former National Road Heraklion - Agios Nikolaos and is approximately 1km to the beach. Along the street, there are tourist shops, supermarkets. The choices of restaurants and taverns in the village are numerous. There is also a beautiful paved square and a palm tree in the center.
The visitor can walk among the traditional narrow streets of the old part of Analipsi village and enjoy the beautiful gardens as well as discover the beautiful places of the village. Within short driving distance you can find the Crete Golf Club (only 5 km away), the Crete Aquarium (10 minutes driving distance) and the famous "The Dikteon Andron Cave" where according to legend, Zeus was born, is located 22 km away from the village of Analipsis.
Rent a car in Analipsi
It  is an ideal place to collect your hired car and start your tour around the island to discover and explore the magnificent of Crete.
Ok
ay rent a ca
r, gives you the chance to find the discount car rates and a  fleet of new and well equipped rental cars for your summer  holidays on Crete.We offer great car rental prices on all car types.