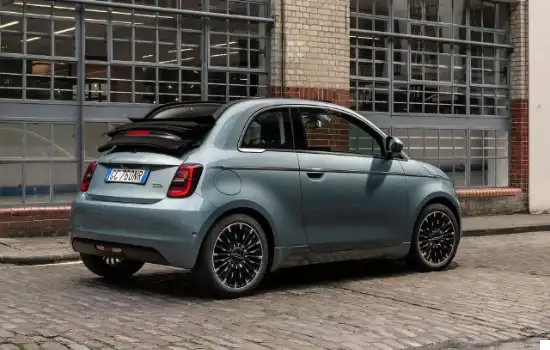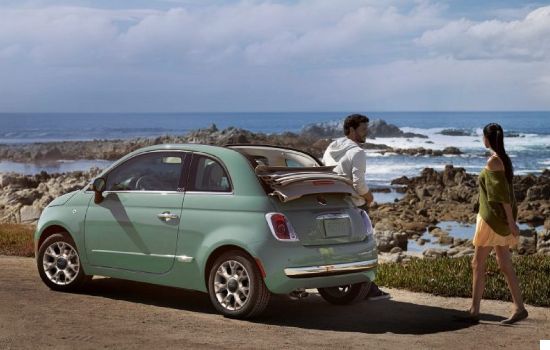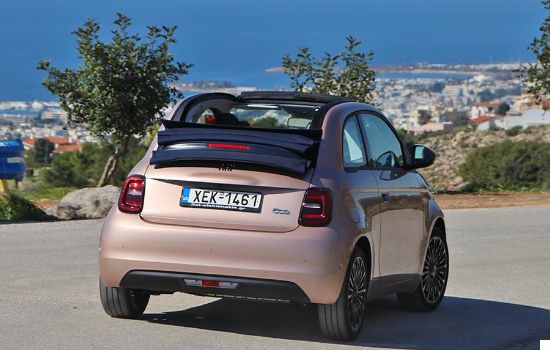 Fiat 500 Cabrio:
Embracing Style and Freedom on the Open Road
The
Fiat 500 Cabrio
, an iconic and compact convertible, has captured the hearts of car enthusiasts worldwide. With its charming retro design, nimble handling, and the exhilaration of open-air driving, the Fiat 500 Cabrio offers a unique blend of style, practicality, and pure fun.
Rent a Fiat 500 cabrio on Crete
Experience the enchanting island of Crete in style and freedom by renting a Fiat 500 Cabrio. As you navigate the scenic roads of this Mediterranean gem, feel the warm sea breeze gently caress your face and the sun kiss your skin. With its compact size and convertible roof, the Fiat 500 Cabrio is the perfect companion to explore the island's charming villages, picturesque coastlines, and breathtaking mountain vistas. Embrace the carefree spirit of the Mediterranean as you cruise along the coastal roads, stopping at hidden beaches and tavernas along the way. Rent a Fiat 500 Cabrio on Crete and create memories that will last a lifetime, combining the timeless allure of the Fiat 500 with the unparalleled beauty of this captivating island.


The Fiat 500 Cabrio boasts a timeless design that pays homage to its predecessor, the original Fiat 500. Its compact size, rounded shape, and signature canvas roof create an irresistible charm that turns heads wherever it goes. The retractable soft-top roof can be opened fully or partially, allowing occupants to experience the thrill of the open road while enjoying the warm breeze and sunshine.
Don't be fooled by its cute appearance; the Fiat 500 Cabrio delivers a surprising level of performance. With a range of engine options, including efficient and zippy turbocharged variants, this convertible offers a spirited driving experience. Whether you're navigating busy city streets or cruising along scenic coastal roads, the Fiat 500 Cabrio handles with agility, making every journey a joy.
While the Fiat 500 Cabrio may be small in stature, it doesn't compromise on comfort. The interior is designed to maximize space and functionality, with clever storage solutions and comfortable seating for up to four passengers. Despite its cozy dimensions, the Fiat 500 Cabrio offers a surprisingly roomy cabin, ensuring a pleasant and enjoyable ride for both driver and passengers.
The Fiat 500 Cabrio incorporates modern technology to enhance the driving experience. A touchscreen infotainment system provides seamless connectivity, allowing drivers to access navigation, music, and hands-free calling with ease. Safety features such as blind-spot monitoring, rearview cameras, and advanced braking systems ensure peace of mind on the road.
The Fiat 500 Cabrio is more than just a car; it's a symbol of style, freedom, and joy. With its timeless design, spirited performance, and clever features, this convertible has earned its place as a modern classic. Whether you're seeking an urban commuter or a weekend getaway companion, the Fiat 500 Cabrio offers an unparalleled blend of charm, practicality, and excitement. Embrace the wind in your hair, the sun on your face, and the thrill of open-air driving with the Fiat 500 Cabrio - an icon reborn for those who dare to be different.
Local car rental company on Crete
---
We are a local car rental company on Crete with over 30 years of experience.
We provide Full insurance with no excess at no risk for the renter. There are no extra or hidden insurances. 
A full deposit refund is available for a cancellation occurring a minimum of one day prior to the delivery date. Car Replaced for free if breakdown. No credit card required. 
All prices are final. The price you reserve is the price you pay!!  
---
Our car rental deals include:
✅  Free of charge airport deliver ✅ 24/7 hours road assistance  ✅  24/7 hours support services.  
✅  Unlimited mileage  ✅  Free of charge baby seats  ✅  Free of charge 2nd driver  ✅  Free of charge road maps 
✅  Full insurance with no excess and "0" deductible.
---
Do you need more help?
Chat with us ☎ Viber, ☎ What's App,
Telephone to us, mob. +30 6970980918
It is always better to book your car early and avoid last-minute disappointments!  Profit from our early booking offers !!
Send us an inquiry and ask the price for your rental car in Crete
---