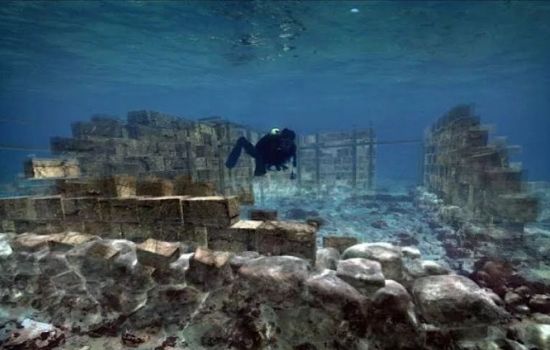 Where is the Sunken city of Olous, Crete
The sunken city of Olous sleeps one kilometer east of Elounda,near the windmills on the peninsula of Spinalonga under the clear blue sea.

Olous was a very lively and prosperous democratic community, and the election of a new mayor took place every year. The city was autonomous and had its own coins and water supplies.
History of Olous
Many stories have been handed down about Britomartis. This includes one, in which the divine girl was so beautiful that King Minos was so enchanted by her that he always wanted her. Britomartis fled from the king, and after reaching the region of Olous, she threw herself into the sea to kill herself.
But she was caught by the nets of some fishermen and was taken to the city, and after hearing her story, the citizens decided that she really had to be a goddess to have survived these torments. So she became the goddess of Olous and the sculptor Daidalous created a great statue of her.
Vritomartis or Britomartis
Vritomartisor Britomartis has many names. She is the beautiful mermaid spirit or Goddess, or the real mermaid, depending where your beliefs take you...

In Minoan seals, coins and rings she is shown with a demonic nature, carrying the Cretan double-headed axe and followed by wild animals.

What we do know is that she was found on coins discovered in the drowned city, and can be visited by snorkelling, much like a mermaid, in this beautiful bay.

There are contradictory theories why Olous is sunk in the sea. One assumption is that the city was first destroyed by the volcanic eruption on Santorini in the year 1,540 BC.

Since the city still had a significant history and in any case still into the 2nd century BC., it is more likely that it is more or less naturally and slowly sunk. Until today, the east of Crete is continually declining, while the west continues to rise and the entire island slowly migrates westwards.

Some old artefacts found in the old town can be seen in the Archaeological Museum of Aghios Nikolaos.

Of the ruins, which date back to Roman times, there is still little to see, since from the 15th century the Venetians used everything they could find in the area – including the stones of the ancient ruins – to construct the salt-producing plants and the Fortress of Spinalonga.

Probably, many artefacts and parts of the ruins are still waiting under the earth or the sea bottom. Therefore, the ground is under archaeological protection, and it must neither be built nor dug.
How to get to Olous
With a

rental car

, the journey from Heraklion to Olous ruins at Elounda is 72 km east via the national road to Agios Nikolaos, then north to Elounda Village.

This site can be reached by local bus from Agios Nikolaos. From that town, take the bus to Elounda, several leave each day and the journey is around 11 km.

Thank you for reading our article.  Find more articles about Crete here