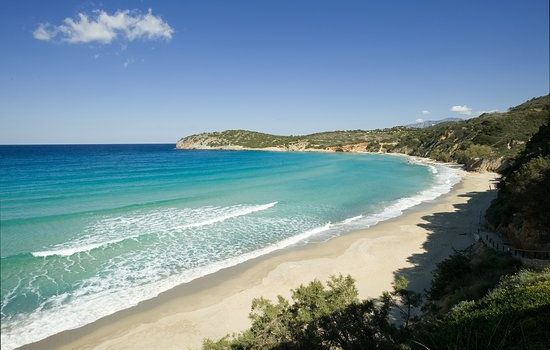 Istron - Voulisma beach
Voulisma is the second of the three bays of Istron village. Istron village is close to Kalo Chorio and is about 12 km east of Agios Nikolaos and 22 km north of Ierapetra. Approximately 500 meters east of Kalo Chorio is located Voulisma beach or Golden Beach. Its length is about 700 meters and is the largest beach of Kalo Chorio.
In front of the touristic settlement, there is a nice sandy beach with turquoise waters. The sea surface is mainly flat, because the beach has easterly orientation. while winds in Crete come mainly from the west. The beach is organised with umbrellas, sunbeds and water sports.
It is easily accessible, as it is located on the main road, which has also parking space. In the surrounding area of the beach there are no industries. The whole area near Voulisma Beach is accordingly considered as a tourist resort with a lot of hotels and apartments.