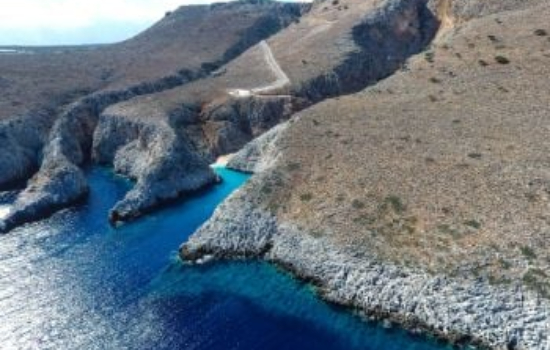 Where is Seitan Limania Beach
Seitan Limania Beach (or else Stephan's Beach) is 20 km southeast of Chania at Akrotiri and one of the most beautiful beaches in this part of Crete as well as a favourite swimming destination for the locals. From Chania airport to Seitan limania is about 15 min. drive and 8.3 lm. The beach is located 22 km northeast of Chania.

History of Seitan limania beach
The striking beauty of Seitan Limania will make you wonder why the site got such an unfortunate name. Translated into English, Seitan Limania means Satan's Harbour. "Seitan," Turkish for "devil," remains in use since the Ottoman occupation of Crete. According to the history, the name is probably referring to the naked rocks surrounding the bay. Until 2015, Seitan Limania was one of Crete's "secret beaches." A Facebook influencer snapped a photo, put it on his wall, and the image became viral. Local agencies took advantage of the trend and begun promoting excursions here.
The road to Seitan limania


The curvy road is a bit steep, but if you have driven mountain roads before you should be fine. The road was recently paved. During the drive to this hidden jewel of wild beauty, you will have the privilege of admiring the grandeur of Crete's nature. The asphalt road descends abruptly, ending at a parking area that serves the beach. Make sure to put the handbrake on when you park the car in the parking. You can also put some stones in front of the tires just in case.

In August, the isolated beach is crowded, with hundreds of tourists making their way to enjoy the beauty of the place. In order to arrive at the beach, you must park the car near the church of Agios Spyridon and walk 5 – 10 minutes down the path. It is preferable to wear trainers in order to arrive safely at the beach, no flip–flops as the path may be slippery. Do not miss this opportunity this summer! Take the chance and experience the ultimate!

And

remember: Respect nature, DO NOT LITTER!

Thank you for reading our article.  Find more articles about Crete here