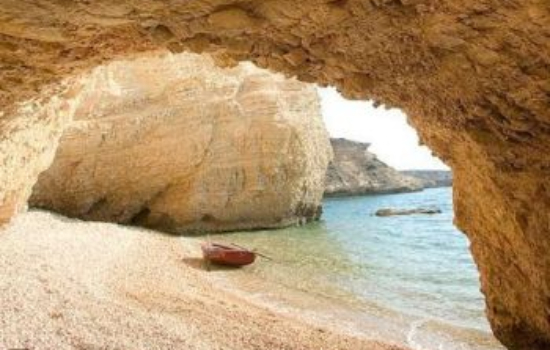 Koufonisi island or Lefki
Koufonisi or Leuki, is a tropical island located south of Lassithi prefecture in the Libyan Sea.
The island is not inhabited today, but it is full of ruins of human activity, dating from the
Early Minoan to the post-Byzantine years. The locals like to call Koufonissi as Delos of Crete because of the important antiquities that have been found.
How to get to Koufonisi island
To get there you will take the boat in the morning from Makris Gialos and you will return in the afternoon. You will
definitely need trainers, plenty of sunscreens and a hat. There you will find 36 beaches with
fine white and golden sand and crystal clear, turquoise waters and many caves.
What to expect from Koufonisi island
Koufonisi is a Wildlife Refuge and, due to its infinite natural beauty and its preserved ecosystem, has been
integrated into the NATURA 2000 European Landscape Conservation Program.
Due to the historical interest and the natural environment of the place any form of pollution, the
collection of rocks, fossils, conglomerates, ancient finds and plants, the capture of animals,
the fire lit or any action against the protection of the ecosystem and archaeological sites are
not allowed.
What to do at Koufonisi island
Koufonisi is the most worth visiting island. During your stay, you can admire the beauty of the white rocks next to the endless blue of the Libyan Sea and enjoy the tranquillity of nature by swimming in its blue waters.

Thank you for reading our article.  Find more articles about Crete here
Local car rental company on Crete
---
We are a local car rental company on Crete with over 30 years of experience.
We provide Full insurance with no excess at no risk for the renter. There are no extra or hidden insurances. 
A full deposit refund is available for a cancellation occurring a minimum of one day prior to the delivery date. Car Replaced for free if breakdown. No credit card required. 
All prices are final. The price you reserve is the price you pay!!  
---
Our car rental deals include:
✅  Free of charge airport deliver ✅ 24/7 hours road assistance  ✅  24/7 hours support services.  
✅  Unlimited mileage  ✅  Free of charge baby seats  ✅  Free of charge 2nd driver  ✅  Free of charge road maps 
✅  Full insurance with no excess and "0" deductible.
---
Do you need more help?
Chat with us ☎ Viber, ☎ What's App,
Telephone to us, mob. +30 6970980918
It is always better to book your car early and avoid last-minute disappointments!  Profit from our early booking offers !!
Send us an inquiry and ask the price for your rental car in Crete
---