Where is located Elafonisi beach?
Elafonisi (some people also call it Elafonissos or Elafonisi) is something like an island and a peninsula because to reach the island you have to walk through the sea.
It is located in the southwest end of the prefecture of Chania and is the top destination of this part of Crete
The Cretan beach of Elafonisi is about 73 kilometres from Chania and 4 km south of Moni Chisoskalitissa
Elafonisi is just taking approximately 3 hours 20 min drive from Heraklion international airport (HER) and 1 hour 45 min from Chania Airport (CHQ) International Airport. 
The beach on the island of Elafonisi in Crete and the beaches of the island facing Crete are destinations that every year many tourists visit, as this place is recommended by many tourist guides and by many tour operators.
What characterizes the area of Elafonissos and makes it such an exotic place, are the little sand islets formed, the shallow turquoise waters of the sea, which at a point looks like a lagoon, and certainly the fine white sand, pinkish at several spots because of the crushed shell powder.
Elafonisi is the undisputed dream beach in the southwestern part of Crete, with white, mitre-pink fine sand and shallow turquoise blue water. Actually, Elafonisi is the name of the beach just 300m away.  The beach on the mainland is interspersed with small shells. Sand is a special feature of the rocky coastline. 
Its main attraction to most tourists is the unique feeling of being in a South Seas lagoon whilst having a Mediterranean holiday. The whole area is an endless summer playground for young and old alike. 
The beach of Elafonisi is like paradise on earth and has a wonderful beach with pink coral sand and crystalline waters. It is considered as one of the most beautiful beaches in Greece.
There are many tiny beaches, which are not so crowded as the lagoon and if you are lucky you may find a desert place even during the high season.  If you get further to the opposite side of the island, you will find the small lighthouse, the enchanting chapel of St. Irene, the Cave of Memory and unforgettable views over the Libyan Sea.
The pink and red sand that gets deposited along the water's edge is produced by the large amount of red and pink shells that get ground up by sea action.
The journey to Elafonisi can be made either by renting a car or by bus. Don't miss one of the best and most famous beaches in Greece !! Indeed 2019 was voted as 9th among the most majestic beaches in the world!!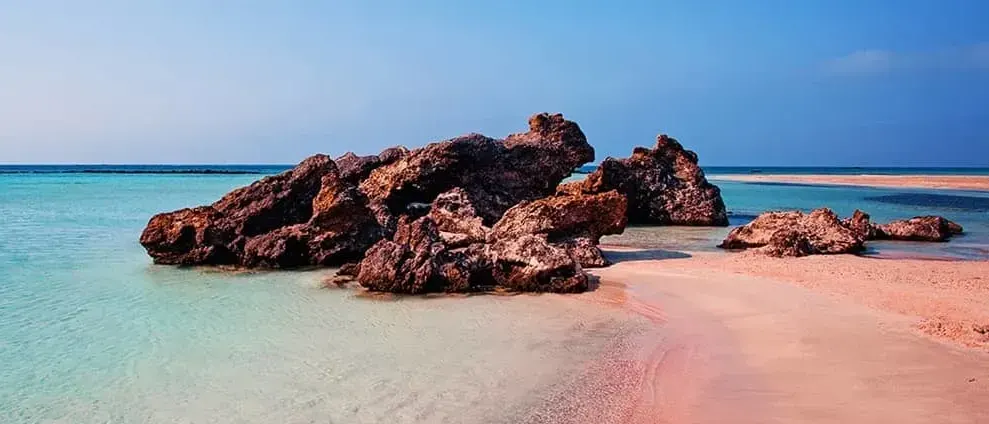 Rent a car and drive to Elafonisi
Most people seem to go to Elafonisi by hire car. The most direct road from the North coast passes through Topolia and Elos. It is a fairly narrow winding road so don't expect to be driving fast (you'll need at least 90 minutes from Chania, an hour from Kissamos).
You can combine it with a short stop at the Venetian city, Rethymno and Argiroupolis waterfalls.
Renting a car is the best way to explore Crete, for travellers who prefer to make their own itinerary. Many interesting villages and settlements, Cretan beaches, monuments, cosmopolitan cities and reveal the magnificent of Crete.
Our local car rentals offer affordable car rental rates for all types of travellers.
You can collect the car directly at Chania airport or at the airport of Heraklion ( HER) so you can get on the road at once. Alternatively, if you are arriving by boat, a rented car can be brought to you when you disembark in Souda Port or Heraklion Port.
Also, you can collect the car directly outside of your hotel or apartment.
Choose from luxury and economic vehicles and enjoy a car from a quality car fleet, all protected by fully-comprehensive insurance policies and equipped with different amenities to help make your trip more comfortable. You can easily book a vehicle online using our website, or by calling us at (+30) 6970980918. ( What's app & Viber)
Visit and choose one of our cars.
Our tip:
If the day is windy you should avoid the beach as Elafonisi has strong winds that can be annoying and won't let you enjoy your swim.
It is recommended to bring your own umbrella as you might not find free sunbeds.
It is forbidden to take along with you the pink sand due to its rare consistency of seashells.
It is always better to bring your own food and your own drinks.
Thank you for reading our article.  Find more articles about Crete here
Hire a cheap car direct from the airports of Crete
Pick up your low - cost car directly from the airports of Crete
Looking for a small or medium economy car rental or something a little larger to fit all the family? At Okaycrete rentals, we have a great range of comfortable rental cars to choose from. Browse our fleet range now and rent a car online today.
Go ahead and book your hire car today, you don't have to worry about paying for it until later. You will collect your rental car directly outside of the airport. Take advantage of our free cancellation service, which lets you cancel your booking up to 48 hours prior to pick up without any fees. Secure your car at a great price today (all insurances included in the price).
We want you to enjoy our cars and to have a safe holiday here in Crete. All our hire cars are serviced and maintained regularly to ensure your safety.
You can find Okaycrete rent a car on Crete  at:
Car rental stations on Crete :

We deliver our rental cars at all the airports of Crete and at the major tourist places. Some of the places that you can receive your rented car are: