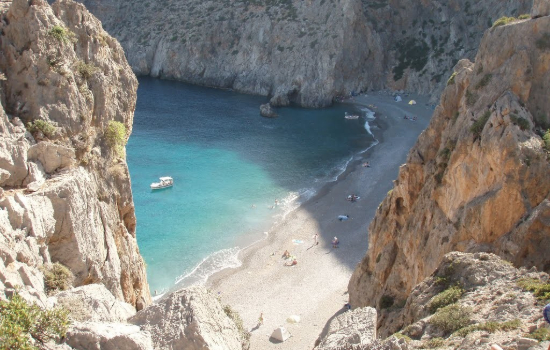 Where is Agiofaraggo

Agiofaraggo beach is located about 80 km south of Heraklion city, at the exit of the Agiofaraggo gorge. It is a spectacular beach, with small pebbles and crystal clear waters, which are usually very calm. A beautiful arch is formed on the west of the beach, beneath which you can swim. Just above, there are towering vertical cliffs, standing imposingly. The trip to Agiofaraggo Crete is highly recommended.
 Agiofaraggo is one of the most impressive, easy-to-access gorges. Agiofaraggo was the home of hermits who alone enjoyed this little heaven on earth. Actually, Agiofaraggo was the first ascetic centre of Crete with about 300 hermits living here in isolation!  Naturism should actually be avoided here as this area is one of the most religious places in Crete. As time passed, became a favourite destination for locals.
Nowadays, it is usually enjoyed by all kinds of people, especially during the hot summer months. Therefore, if you wish to avoid the crowds it's better to visit in autumn, spring, or early summer.
How to get to Agiofaraggo

To get to Agiofarago beach, you either have to cross the gorge with an easy hike of about 30-50 minutes or take a boat from Matala, Agia Galini, or Kali Limenes.


Reach the monastery of Odigitrias, dedicated to the Virgin "who shows the way" after leaving the village of Siva, and from there starts the dirt road which leads you to Agiofaraggo Beach. Drive down a white road in the direction of Kali Limenes and the coast of the Libyan sea following the signs. 
This is a relatively easy dirt road. The best option is to leave your car in the first "parking" ( you will normally see other cars there) and continue on foot, as after this point the road becomes more difficult to drive on. On the way, you will see large caves in which hermits live and the chapel of St. Anthony, with a well outside where the hermits are supplied with their water.
Definitely worth a day trip! For nature lovers, it's a must-see! Find a cheap car

Trainers, water and sunscreen are necessary.

And always remember to respect nature,

DO NOT LITTER!

Thank you for reading our article.  Find more articles about Crete here