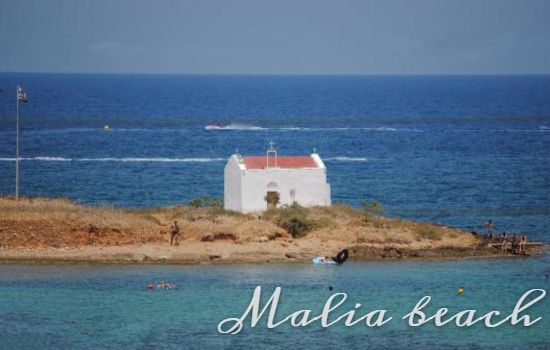 Malia or Mallia (Greek: Μάλια) is a coastal town and a former municipality in the northeast corner of the Heraklion regional unit in Crete,  It lies 34 kilometres (21 miles) east of Heraklion, the Cretan main city. The municipal unit also includes the villages of Mochos (Greek: Μοχός) (825), Krasi (Greek: Κράσι) (147), and Stalida (Greek: Σταλίδα) (1,237), and has a total land area of 60.720 square kilometres (23.444 sq mi).
The town is a tourist attraction, primarily for its significant archaeological site and nightlife. The Minoan town ruins lie three km east of the site and cover an area of approximately 1 square kilometre (0.4 sq mi). The original name for the town is not known.


There are plenty of things to do in Malia, a town blessed with a stretch of pristine white sand beaches and home to some of Europe's biggest clubs. Despite its reputation as a hard-partying destination, there is plenty to charm history and outdoor enthusiasts throughout their holiday.
Malia old town



The old town of Malia is well worth strolling around. Picturesque with many traditional tavernas around its beautiful little streets

.

Like a labyrinth, the small streets lead you to unexpected places, such as beautiful old churches and small squares with restaurants, some of them with live music.

Malia restaurants

Malia Palace


The Palace of Malia is 

situated on the North coast of Crete, East of Heraklion

. To the south lie the Lasithi mountains. It occupies 7,500 square meters, it is the third largest of the Minoan palaces. The Minoan name for the Palace is not known and it takes its name from a local town.

Revel in Minoan history among ancient ruins.

Glozanie Beach

Glozanie Beach is the beating heart of Malia, full of atmosphere and packed to the rafters with sun-seekers. Just a short 20-minute walk from Old Town, the days roll into one with never-ending parties. A wide-paved promenade connects the expansive 2-km stretch of white sand, which is lined with cafes and beach clubs. Soak up the sun on Malia's main beach

Potamos beach

Potamos is a long sandy beach, very well organized, but usually less crowded than the main beach of Malia. The region, particularly its east part, is not developed due to the archaeological site. However, on the west of the beach, there are several hotels with small sandy coves in front of them.

Roza gorge

Roza Gorge is a relatively unknown hiking trail in Crete but has views rivaling that of the famed Samaria Gorge. The 6.8-km-long gorge trail is named after the rose-colored formations that wind between dramatic rock faces. The trail links the mountain villages of Kera and Gonies – you can start and end your hike in either village or challenge yourself with a round-trip.