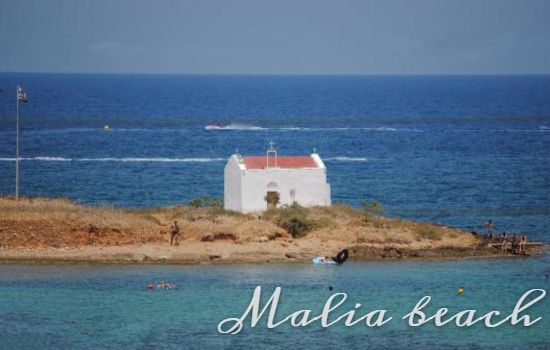 Malia or Mallia (Greek: Μάλια) is a coastal town and a former municipality in the northeast corner of the Heraklion regional unit in Crete,  It lies 34 kilometers (21 miles) east of Heraklion, the Cretan main city. The municipal unit also includes the villages of Mochos (Greek: Μοχός) (825), Krasi (Greek: Κράσι) (147), and Stalida (Greek: Σταλίδα) (1,237), and has a total land area of 60.720 square kilometers (23.444 sq mi). Keep reading to find out the 5 top sights in Malia
The town is a tourist attraction, primarily for its significant archaeological site and nightlife. The Minoan town ruins lie three km east of the site and cover an area of approximately 1 square kilometer (0.4 sq mi). The original name for the town is not known.


There are plenty of things to do in Malia, a town blessed with a stretch of pristine white sand beaches and home to some of Europe's biggest clubs. Despite its reputation as a hard-partying destination, there is plenty to charm history and outdoor enthusiasts throughout their holiday.
Malia old town




The old town of Malia is well worth strolling around. Picturesque with many traditional tavernas around its beautiful little streets

.

Like a labyrinth, the small streets lead you to unexpected places, such as beautiful old churches and small squares with restaurants, some of them with live music.

Malia restaurants / nightlife

Malia is best known for its party atmosphere, with a wide variety of bars and clubs open until the wee hours of the morning, attracting a younger crowd. Hersonissos is quieter, but also known for its nightlife. Malia is not known as a romantic or family destination in Greece However, Malia is a beautiful coastal town in northern Crete known for its long white beaches. The beaches of Malia are especially known for attracting a younger crowd due to the loud nightlife and modern beach clubs, which makes for an exciting and memorable vacation

Malia Palace


The Palace of Malia is 

situated on the North coast of Crete, East of Heraklion

. To the south lie the Lasithi mountains. It occupies 7,500 square meters, it is the third largest of the Minoan palaces. The Minoan name for the Palace is not known and it takes its name from a local town.

Revel in Minoan history among ancient ruins.

Glozanie Beach

Glozanie Beach is the beating heart of Malia, full of atmosphere and packed to the rafters with sun-seekers. Just a short 20-minute walk from Old Town, the days roll into one with never-ending parties. A wide-paved promenade connects the expansive 2-km stretch of white sand, which is lined with cafes and beach clubs. Soak up the sun on Malia's main beach

Potamos beach

Potamos is a long sandy beach, very well organized, but usually less crowded than the main beach of Malia. The region, particularly its east part, is not developed due to the archaeological site. However, on the west of the beach, there are several hotels with small sandy coves in front of them.

Roza gorge

Roza Gorge is a relatively unknown hiking trail in Crete but has views rivaling that of the famed Samaria Gorge. The 6.8-km-long gorge trail is named after the rose-colored formations that wind between dramatic rock faces. The trail links the mountain villages of Kera and Gonies – you can start and end your hike in either village or challenge yourself with a round-trip.

Considering that there is a lot to explore, make it convenient and straightforward when you rent a car in Malia from

Okay rent a car

.

To the west, the beaches of Stalida and Psarolakos await you, and to the east, the beaches of Sissi and Milatos, where you can enjoy the crystal clear waters and golden sandy beaches.

On a total length of 6 km of coastline, the well-known, organized and beautiful beaches of the municipality of Malia extend with fine golden sand and crystal clear blue waters.

Get to know Malia and the surrounding area and travel comfortably and safely with a rental car from Okay Rent A Car.

Traverse a beautiful landscape through the outskirts of Mount Selena. Tourists love to admire the towering windmills and beautiful springs of the city. Forgo the stuffy shuttle bus and rent a car in Malia. Instead of crowding with other tourists, travel to Malia from the airport or connecting port in comfort. Enjoy the view at your own pace with a car rental in Malia.

Okay rent a car

goes above and beyond to ensure your Malia vacation is worth your time. Feel free to discuss your itinerary with us over the phone. Our knowledgeable staff can also recommend the best places to explore and relax.

Thank you for reading our article.  Find more articles about Crete here