Cretan beaches
Discover the top cretan beaches you must visit on Crete. Find brief info about these destinations on Crete, that you can easy access with your rented car. Starting to drive direct from the airport or you can pick it up from your hotel.
---
---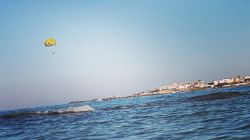 Kato Gouves
Goúves or Kato Gouves  (Greek: Γούβες) is a town and former municipality in the Heraklion regional unit, Crete, Greece. Since 2011, local government reform it is part of the municipality Hersonissos, of which it is a municipal unit. It lies a few kilometres east of Heraklion.
Goúves or Kato Gouves proper is often confused with its busy summer resort, Kátó Goúves. Besides this well-developed tourist resort with long sandy beaches, the area has some traditional villages and archaeological sites and Eileithyia caves. West of Goúves are the tourist resorts of Kokkíni Háni (also spelt Háni Kokkíni) and Amnísos, both with similar attractions, and, to the east, Crete's largest resort, Hersonisos.
Goúves proper is located about 20 km (12 mi) east of Heraklion. Kátó Goúves, just a couple km north of the village, with its long sandy beach, is the summer resort. There is a variety of accommodation, from large hotels to boarding houses and self-catering apartments, and there are many restaurants, bars, nightclubs, and shops. Find car rental in Gouves
---
---
Anissaras
Anissaras is located 25 km east of Heraklion and 1 km west of Hersonissos. The area of Anissaras is part of the unique stretch of Cretan coastline from Kokkini Hani to Malia.
Anissaras is neither a village nor a town – it's a place – a large, hilly area which springs up just outside of Hersonissos, a stone's throw away. But the difference between the two is like night and day. Actually, some people refer to it as Hersonissos' high-class suburb.
There are no bars, no nightlife – outside of the hotels in Anissaras, which are mostly upscale and self-contained. However, there are a few smaller hotels and several tourist apartments in the area. All in all, it is a place for a quieter vacation, yet close to the Hersonissos hot spots. Find car rental in Anissaras
---
---
Analipsi
Analipsis is roughly 24 kilometres east of Heraklion, shortly after Gouves and before Anissaras. It is also known as Analipsis Hersonissou, as it is very close to the seaside resort of Hersonissos.
Analipsis is built along a long road, running over a kilometre from the old Heraklion - Agios Nikolaos National Road down to the beach. Find car rental in Analipsi
Elafonisi
The Cretan beach of Elafonisi is about 73 kilometres from Chania and 4 km south of Moni Chisoskalitissa. Elafonissi and is the undisputed dream beach in the southwestern part of Crete, with white, mitre-pink fine sand and shallow turquoise blue water. Actually, Elafonisi is the name of the beach just 300m away.  The beach on the mainland is interspersed with small shells. Sand is a special feature of the rocky coastline. The beach on the island of Elafonisi in Crete and the beaches of the island facing Crete are destinations that every year many tourists visit, as this place is recommended in many tourist guides and by many tour operators. You can reach Elafonisi either by bus tour or by your rental car from OKay rent a car and in that case, you will make your one way to Elafonisi, you will stop as many times you like on your way to Elafonisi and you will enjoy more the best cretan beach: the pink sand beach of Elafonisi
---
---
Stalida
Stalida (Greek: Σταλίδα, older form Stalis) is a village that lies between Malia and Hersonissos on the north coast of Crete, Greece. It is a lively resort, attracting tourists from many European countries. It has a long, sandy beach and a variety of bars and tavernas. Popular with families, it is 30 km from Nikos Kazantzakis airport in Heraklion.
Quieter than the neighbouring resorts of Malia and Hersonissos, Stalis has a more relaxed atmosphere and still has a wide array of bars and restaurants
---
---
Kokkini chani
Kokkini Chani or Kokkini Hani is located 15km west of Heraklion, west of Vathianos Kambos. It is a very well developed resort, surrounded by many crops cultivated in the fertile plain of the area. The name of the site means "Kokkinis's Inn" and is taken after an inn that operated here in the early 1900s, by someone called Kokkinis. This inn was popular to the travellers, who stopped at this point to spend their night during their journey to Heraklion.
The area has many beaches, protected by small artificial piers. The beaches are sandy and have shallow turquoise water. Most beaches are formed in front of hotels, but access is open to everyone. The area is full of shops and restaurants and all beaches are well organized with umbrellas, lifeguards, water sports and the basic tourist infrastructure. The nightlife in Kokkini Chani is not particularly intense, especially compared to that of Malia and Hersonissos. Find Car rental at Kokkini Chani
---